Good morning everyone! Welcome to my Friday Feature - Who's That Seller? where I feature one of my favorite Etsy shops, their items, and the mastermind behind the shop.
This week, I would love for you guys to meet Erin. She is the creative genius behind the adorable Etsy shop Abstract Averun. When you visit her shop, just be prepared to explode from cuteness overload. Her rings and skeleton key bracelets are some of my favorite items there. I interviewed Erin earlier this week to give you guys a chance to get to know her as well. Hope you enjoy!
Abstract Averun Shop Link -
http://www.etsy.com/shop/AbstractAverun
Two of My Favorite Items: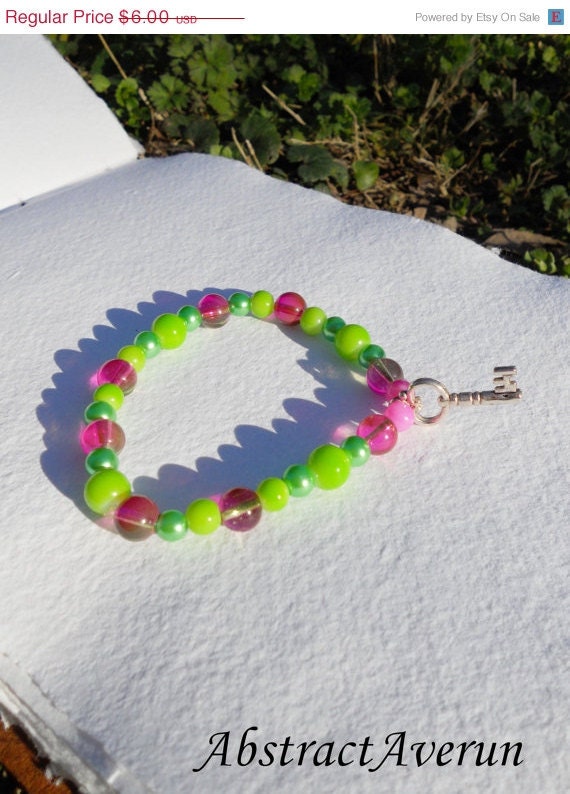 http://www.etsy.com/listing/92391558/on-sale-skeleton-key-stretch-bracelet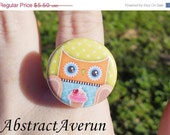 http://www.etsy.com/listing/91968694/on-sale-owl-ring-cupcake-orange-lime
Meet Erin!
Q: What is your favorite art medium?
A: Well, it doesn't show up in my shop, but my real passion started with watercolors. Back in high school I used watercolors just like a street artist uses spray paint. That became my style, and 16 year old me wanted to do nothing else as a career.
When I first opened my shop (when I was 18) I loved making owls out of nothing... There's this feeling you get after you take a sheet of felt, and some scraps of material... You realize you've created something, out of nothing. That, because you imagined it, it exists.
But as of today, I love to work with different chains (My favorite is Figaro!)
I am obsessed with creating my own style of necklaces, and every time I feel discouraged (Because a lot of people make jewelry) I will have a customer who tells me that they love them.. And it's people like that, those people who buy OOAK items from small sellers.. who realize my existence in this huge web-based world, that keep me doing what I love
Q: How long have you been an Etsy seller or crafter?
A: I have been crafty my whole life. From the time in Kindergarten when my teacher made us glue macaroni noodles to card-stock... (That is the first crafty thing I remember enjoying, and it sparked my interest. The years following that I remember getting all kinds of crafty gifts. Paint sets, marker set. Crayola 64 pack with built in sharpener!!) To high school-- I even had the chance to transfer to an art school, but 13 year old me wanted to stay in school with friends.
Anyway, I have been a seller on Etsy since March 4, 2011 (I have had my Etsy since 08") I am currently celebrating my shop's anniversary by a 20% off everything sale!! It will be going on the entire month of March. Check it out if you want to!!
Q: What motivates your creativity?
A: To be honest, I really don't know... I have been in a rut before (went weeks without making anything at all) and out of nowhere I'll find myself getting supplies out, or wanting to go to the craft store.. then I will just start making stuff without even really thinking about it. So, I guess some invisible force gives me motivation to create.
Q: What is your favorite item in your shop right now and why?
A:
www.etsy.com/listing/94012697/on-sale-lampwork-toadstool-necklace
That. For so many reasons. Not just because of the cute lamp-work mushroom, I have made a similar style necklace using a heart before, but I guess I love working with glass/lamp-work beads. PLUS that necklace is made using Figaro chain! ;)
Q: What are some of your favorite Etsy shops?
A: I am so happy you have asked this! Most people probably don't think about making lifelong friends on Etsy, but it seems everyday I meet sellers.. Here are a few of my favorite shops/friends:
1:
www.etsy.com/shop/fuglyfriend
2:
www.etsy.com/shop/CARIBBEANSCENTS
3:
www.etsy.com/shop/2fillesdunord
1st up is Marissa from FuglyFriends!
I have a Boston Terrier named Choe (He is named after my favorite street artist) and he is spoiled ROTTEN! I got Marissa to make a custom fugly using a picture I had of him (In picture 2 you will see Choe!) and here is how it turned out:
www.etsy.com/transaction/51262108
Marissa is so talented, and whimsy.. Her passion shows in her work. Fugly Friends are the best!
Another wonderful seller is Ana from CaribbeanScents (I call her my dealer)
I am HOOKED on her sugar scrubs, tea lights, lip balm, body butter... You name it, I have bought it from her!
Now, this next shop is my friend from Canada, Martine from 2fillesdunord.
She is talented, sweet, and every time I purchase from her I get a little note that makes my day. She also makes jewelry, and she's very talented. (Also has her PhD in French Literature) So she not only followed her creative dream, but her personal dream as well.
I could go on and on about shops I adore, but I narrowed it down to a top three.
Q: A random fun fact about you:
A: I am not sure if this is random or fun, but it is a FACT!
Every time I get out my supplies to makes something, the entire house is destroyed! Covered in beads, felt, buttons, chain! I have got to get a craft room to make hiding the mess easier. ;)