Good morning cuties! Hope everyone is having a wonderful day so far. This week's feature Etsy shop is It's A Good Day For Clay. You can find polymer clay jewelry, bath salts, nail art, wallets, crochet hair clips, and scarves in this adorable shop. I LOVE IT! And the cool thing is that the masterminds behind this shop, Kaylee and Phil, are boyfriend and girlfriend! What girl wouldn't want the support of her man, right?
As a thank you to all of my readers, Kaylee and Phil are giving you 15% off your entire order from their store! Just use coupon code CHIBILOLITA1. It's good until April 8th at midnight. Below, you'll find the link to their Etsy shop, some of my fav items from there, and an interview about Kaylee and Phil. As always, click the link and show some love! Happy shopping cuties!
Store Link -
http://www.etsy.com/shop/ItsaGoodDayforClay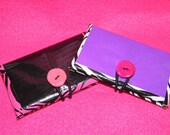 Duct Tape Business Card Case - $7.00
http://www.etsy.com/listing/92657307/duct-tape-business-card-case

Hello Kitty Knit Scarf - Made To Order - $23.00
1. What are your favorite art mediums?
Kaylee -
I love any type of medium really. I paint, sculpt, knit, crochet, needle felt, and use duct tape as often as I can. I love drawing with Sharpies and melting crayons on canvas. I'm kind of obsessed with crocheting right now and I've been spending a lot of time trying to build up the Crochet/Knit part of my shop. I just recently started with yarn crafts last year but they have consumed a lot of my time lately. Phil and I have been crocheting fools the past couple of weeks! Haha. I like upcycling as well and turning "trash" into treasure.
Phil -
My favorite mediums are ones that are anything but ordinary. I like to work with anything that can let me express myself in ways that words can't.
2. How long have you been a seller on Etsy and/or a crafter?
Kaylee -
I've only been selling on Etsy since December of 2011 but I've been a crafter all my life. My mom always encouraged me to make presents for my family members instead of buying them ever since I was a little kid because as everyone knows, those are the best presents. This past Christmas, every single present I gave was handmade by me with my own two hands.
Phil -
I've been crafting all my life as well. I've always enjoyed do anything with my hands, whether it be making art or taking apart and fixing things and seeing how the work mechanically from the inside out. I enjoy word working as well. I was in shop in high school for 4 years and I'm also a certified cabinet and mill maker.
3. What motivates your creativity?
Kaylee -
Being a poor college student! Hehe. But seriously, I've always wanted to sell things that I enjoy making. I don't like corporate America or the way everyone feels the need to be so serious all the time in the real world. I want to help people in some way with my mind and my art.
I like going to Hobby Lobby everyday and seeing all the different crafters and I like to ask what the people in the store what they are going to do with their carts of stuff. My mom is a big supporter of the things I do and has always pushed me to do great things. She is also one of my biggest fans.
Phil -
The knowledge that I gain from doing something new inspires me to venture further into different mediums, techniques, and crafts. The satisfaction I get from completing something that people enjoy brings me joy and inspiration to delve deeper into my imagination and creativity. Similarly, my motivation for creativity is derived from Kaylee because she will create things that put more ideas into my head motivating me to come up with cool things and vice-versa. This makes our creative process an endless cycle.
4. Favorite item in your shop right now and why?
Kaylee -
That's a hard question to answer but I think it's the Hello Kitty Scarf. I custom made the original one for my best friend Bethanne who absolutely LOVES Hello Kitty. I spent like 12 hours total on it. Trying to make the little decals for the nose and eyes it's what took me the longest. I had to knit little squares in the colors I needed, cut them into tiny little ovals, figure out a way to keep them that way and then figure out how to get them to stay on the scarf all without them falling apart. It was rather tedious but the final product was pretty darn cute! But everything I sell has some sort of meaning behind it so I really like everything in their own ways.
Phil -
I can't really pick one because everything in the shop that myself and Kaylee have created are both special and unique that to differentiate between one item and another is just too hard to narrow down to an individual item. We both create and sell items that we personally love to create and use so all of the items in the shop are my favorites.
5. What are some of your favorite Etsy stores?
Kaylee -
First and foremost I LOVE your shop!! I really like the shop SuAmi because it's a family of crocheters that make super small micro crocheted animals. And I love the shop TheBirdTheBee. That's actually where I got inspired to start clay work. Her little cupcakes are darling. And DollishPolish; their talent is extensive in the nail polish world. Really any shop that has anything related to Frankenstein, Tim Burton or Zombies can hold my attention.
Phil -
Etsy is such an expansive and welcoming community that I can literally spend hours upon hours browsing the shops and have nothing but compliments for all of them. So to be able to narrow it down to one shop or even a few shops is just out of the question. When I look at someone's Etsy shop, it gives me a feeling that I'm looking into that person's mind seeing all the blood sweat and tears that are put into their work. But to narrow it down a little bit, the weirder the items, the more I'm drawn to them.
6. A random fun fact about you
Kaylee -
I LOVE The Nightmare Before Christmas. I've seen the movie over 500 times and even watched almost every day for a year when I was about 14. I've worn out like 2 or 3 DVDs of the movie. I'm a dedicated Tim Burton fan, if you couldn't tell… =) Oh, and zombies. I can't get enough zombies. I actually want to go out in a hail of gun fire while killing the undead!
Phil -
I am a biomedical engineering major who rides a Kawasaki motorcycle but I'm not afraid to admit that I love to crochet and listen to Katy Perry.