Yep, it's party time! And when you're at a party, it's only natural to introduce yourself and get to know others that are there. That's why I'm in L-O-V-E with this link party that Breanna is hosting over at her blog My Beautiful Crazy Life!
Every third Tuesday of each month, Breanna and her co-host come up with 5 questions for you to answer so that everyone will get to know each other better. The name of the link party is "Me, Myself, and I". This is my first time linking up, so I hope you'll enjoy my answers and even link up yourself!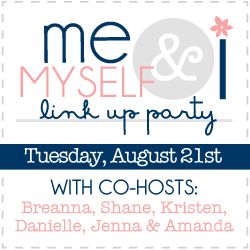 1. What would you attempt to do if you knew you could not fail?
Learn to play every instrument in the world flawlessly. My Dad was a drummer and my Mom has great taste in music so my love for music runs pretty deep :)
2. If you only had six months left to live, what would you do with the time?
Spend every moment I could with my family and friends having fun and just enjoying life. There's no need to travel the world and all that fancy stuff when you can leave your family and friends the best gift of all, great memories of their time together with you.
3. If a front page article was written on you, what would the headline be?
SERIAL BANK ROBBER STOMPS POLICE!!!
I'm not condoning robbery by any means or suggesting that I do that, but that's what my headline would read. Why? Because my husband tells me all the time that when I straighten my curly hair I look like a completely different person. He says I could rob a bank and not get caught just because I'm so unrecognizable! Lol! I wish I had pictures to share of the difference, but I don't. Maybe next time...
4. What is your biggest pet peeve?
When you are done with your shopping cart, please put it where it belongs - either back in the store or the shopping cart collector that's in the parking lot. DO NOT leave your cart on the sidewalk (unless it goes there), the shrubbery beside your car, or the parking space beside you. I HATE THAT!!! I will send you evil eyes if I see you do it!
5. What is your favorite chick flick movie?
How To Lose a Guy in 10 Days. I love that movie, especially when I watch it with my Mom. Kate Hudson is hilarious in this movie. I love the parts where she can go from sweet and loving to psycho and crazy in like 4 seconds flat! If you haven't seen it, please do :)