Good evening cuties! I found 3 great giveaways for you to enter. The prizes up for grabs are a dainty gold bracelet, adorable "Love" inspired stamp set, and a wild hot pink zebra cosmetic bag. I entered all of these and the entries are very easy. As a bonus, I also included a link to the giveaway being hosted on this blog by me and the featured Etsy sellers from last month. If you haven't entered yet, you have until midnight April 19th. Have fun entering for free swag! Later cuties :)
GIVEAWAYS:
Gold Bracelet with Initial Letter and Freshwater Pearl - Sweet Fix
http://www.sweet-fix.net/2012/04/gold-bracelet-with-mini-letter-charm.html?showComment=1334275824496#c5196523885942663327
Martha Stuart Clear Stamp Set and Acrylic Block - Unify Handmade
http://unifyhandmade.blogspot.com/2012/04/giveawaythe-first-of-many.html?showComment=1334276611887#c5248060271783808693
- I love this giveaway because it's her first one and she shows you what you can do with these stamps. Great ideas!
Hot Pink Zebra Hobo Bag for Cosmetics - SisterBatik
http://sisterbatik.blogspot.com/2012/04/giveaway-hot-pink-zebra-boho-bag-for.html?showComment=1334277217114#c7832164679441935071
- Although there are two bags shown here, only the hot pink one is up for grabs.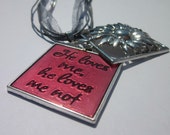 Featured "Who's That Seller?" Giveaway - Chibi Lolita's All Kinds of Cute
http://chibilolitascute.blogspot.com/2012/04/march-whos-that-seller-giveaway.html
- Don't forget to enter the giveaway that is featured on this blog! It ends on April 19th at midnight. ONE cutie will win ALL of the prizes!