Good morning cuties! Are you ready for the weekend? I know I am! Well to start your weekend off, here is this week's "Who's That Seller?". Today, I'll be featuring the very creative Etsy shop TragicStitches and it's talented mastermind Erina.
There are so many awesome shops on Etsy that it's hard to find the really unique ones sometimes. Thankfully I follow a lot of blogs and that's how I stumbled upon TragicStitches, today's feature shop. There is cute jewelry galore in this shop! Bright colors, interesting pendants, and unique necklace settings. What makes Erina's shop really unique is that she uses toys as pendants on her necklaces. I love it! And as if that wasn't enough, she "cutes it up" with colorful beads, bows, and flowers. One of my favorites is her Hello Kitty necklace (pictured below).
If you're looking for unique and cute jewelry, this is the place! Erina has even lovingly given my readers a
coupon code to receive 15% off! Just use "sweetdeal" during checkout.
After you finish reading Erina's interview, go shop around her Etsy shop TragicStitches. I'm sure you'll find something that you'll absolutely fall in love with. Later cuties :)
TragicStitches shop link -
http://www.etsy.com/shop/TragicStitches
Hello Kitty Kawaii Necklace - $30.00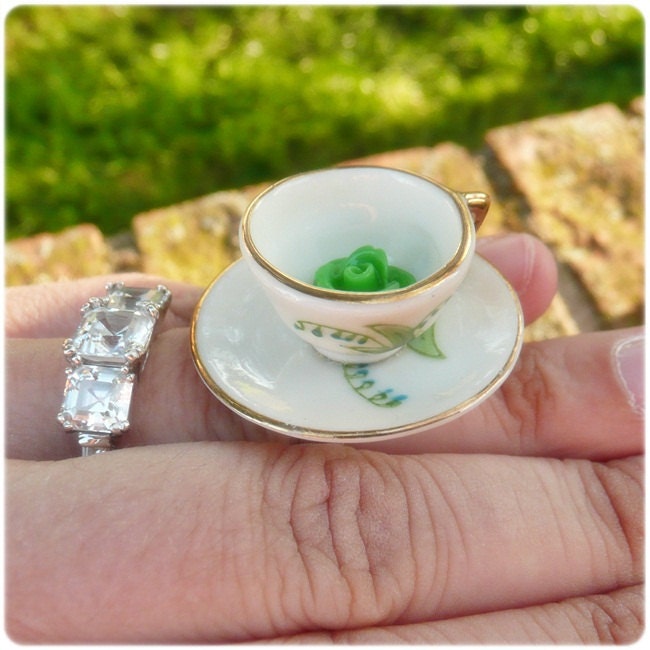 Cuppa Green rose Ring - $9.00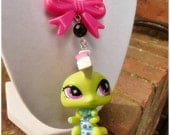 Punk Rock Caterpillar Necklace - $20.00
MEET ERINA!
1. What is your favorite art medium?
I love working with toys, not a traditional art medium but I love to make things out of toys. I make jewelry, dioramas, even other toys out of toys. I think because toys are super important to me and I have always not only played with them but collected them.
2. What motivates your creativity?
This is a tough one, I think that for me making things is just something I HAVE to do. I get ideas all the time, but sometimes I get these bigger ideas and I just have to make whatever it is right then. I get loads of inspiration from Japanese fashion and culture and of course other etsy sellers.
3. How long have you been a seller on Etsy and/or a crafter?
Well I started selling on etsy in 2007, back then I only made plush, I have certainly gone in a very different direction the last few years, although I have kept my name, Tragic Stitches... kinda because I feel like that is how I started just trying to make something out of fabric and thread... and at first everything was pretty Tragic looking. As far as crafting goes gosh I've always crafted. I was partially raised by my Gram who is a quilter and primitive artist and she taught me to sew when I was very little. Of course because she makes art that is very primitive looking I had to learn a lot on my own.
4. What is your favorite item in your shop right now and why?
5. What are some of your favorite Etsy shops?
6. A random, fun fact about yourself.
Okay... I love making colorful and plastic jewelry and I never wear jewelry. Hahaha. Well almost never I think that is why I make it so that I can play with and try and so many necklaces!!!