I am super excited to introduce 3 awesome sponsors for you guys to get to know this month :) This is special for me as well because this is the first time I've ever asked for sponsors and I had 3 people respond. Yay! Without further adieu, here they are!
Ronnie @ Anywhere is...
Hi! I'm a 30-something wife and mom living in Chicago. I love Disney, yoga, reading, books, dolls, and curly hair.
Courtney @ Chase All Your Dreams
Hi! I'm Courtney, 21, and I live in the Big Apple. I'm in my last year of college and I want to get into the music business after I graduate. I love music, baking, crafting, DIY-ing, traveling, and so much more. So stop by and say hi!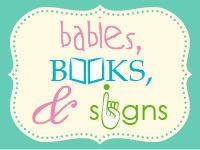 Lindsey @ Babies, Books, and Signs
My blog started off as a book and baby blog and has evolved to include that and every other aspect of life.
All of their buttons on this post will directly link you to their blogs, so go ahead and give them a click. Get to know these lovely ladies a little more by reading and following their blogs.